Look at those smug neighbors, lounging around on their stylish teak patio furniture, sipping cocktails, and loving life. Meanwhile, you're behind on mowing the lawn and trimming the hedges. Who has time to prep for a patio party when you can't even keep up with the regular stuff? Shouldn't you get to kick back on your lawn, too?
Yes, you should. It's just a matter of designing your landscape so it requires less attention from you. Here are a few strategies to help:
Use Rocks for Interesting Landscape Features
Grass doesn't grow on rocks. Besides stating the obvious, what that really means is that they're the perfect, versatile tool for creating a low-maintenance outdoor space. Use them to create walkways, or group them together to form decorative outcroppings.
Image: JPM Landscape and Design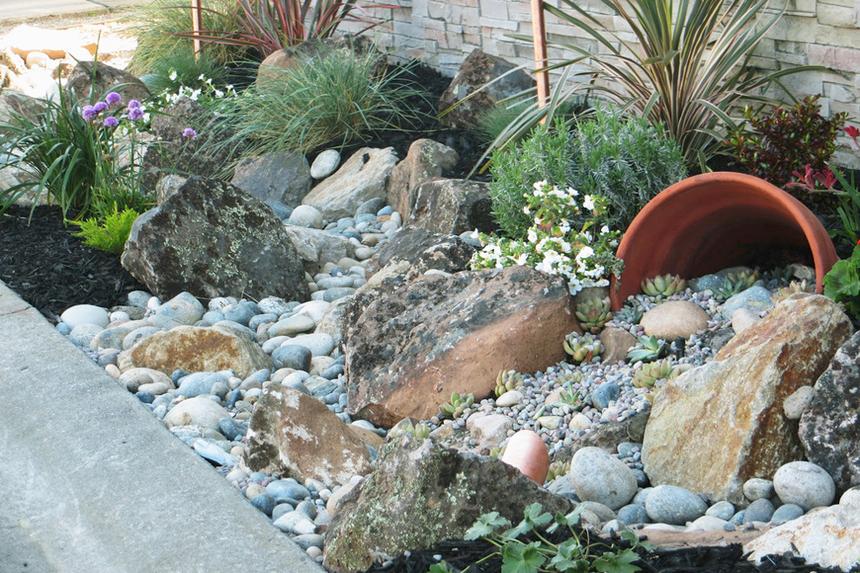 Small yards, especially in desert climates, can be completely rocked over, or you can use them as strategically placed accents.
And if you've got spots that are constantly wet, they're great for keeping mud (and mosquitoes!) under control because they'll help the water run off instead of collecting.
Add a Rain Garden if You've Got a Soggy Spot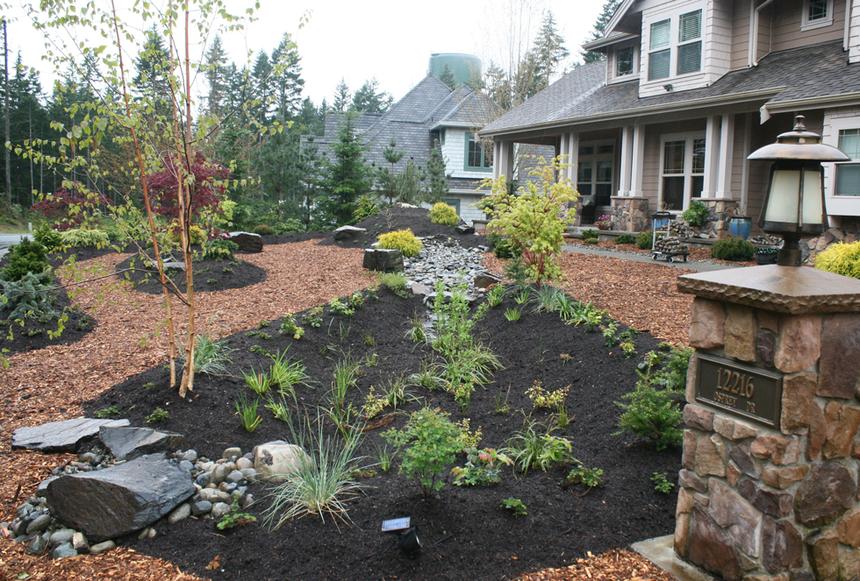 Image: Rain Dog Designs LLC

Speaking of wet areas, do you have a depressed corner of the yard where puddles rule?
Try a rain garden, which is kind of a mini-wetland that reduces storm-water runoff. And done right, they're almost maintenance free because they require no mowing, no watering, and little weeding.
They make much prettier focal points than soggy grass, too.
Rain gardens are fairly easy to create, using gravel, sand, and native plants. The idea is to slow down rainwater so less of it goes into the sewer system, and more is used to nourish plant life.